Rushda Soft has well-groomed experienced people in custom software development.
If you're looking for a long-term reliable partner to realize new innovative ideas that will provide your customers with additional value and differentiate your business in a tough competitive environment, it is Rushda Soft who delivers the result. From smart customization of the pre-developed platforms for full-cycle custom software development along with the client's vision, Rushda Soft is an experienced development partner to deliver cost-effective and reliable software solutions that match your unique requirements.
How does it work on Rushda Soft?
You tell us what kind of solution you need, how you want it to run, which business processes are involved for us to build a solution with a view to exactly fit your demands. Rushda Soft always keeps in mind the idea of future business expansion, so your solution will be built scalable and flexible to be modified later as your business grows or transforms.
From the project launch, you will recognize and appreciate Rushda Soft team technology skills, business domain expertise, and smart project management – from initial requirements definition and business process modeling to user training and solution support & maintenance.
Rushda Soft usually suggests splitting the whole project into several iterations (well-defined periods with fixed goals and deliverables). Such an iterative approach has the following advantages: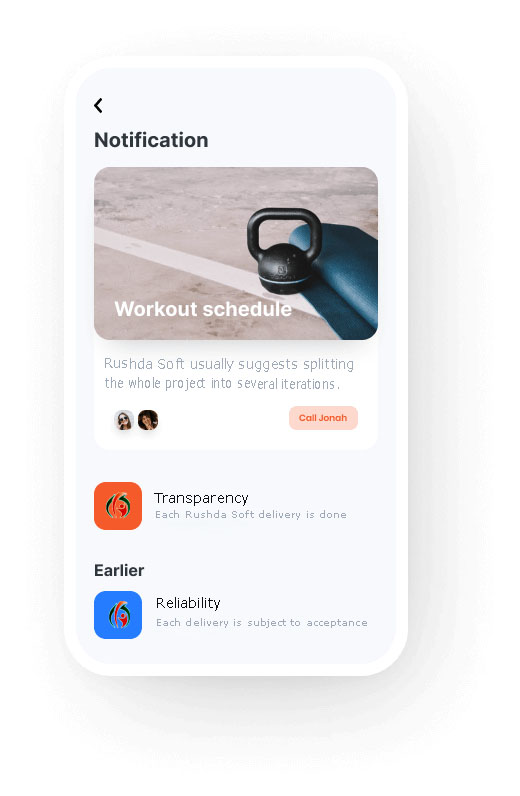 Technologies and Development Process
Rushda Soft has well-groomed experienced people in custom software development. Our expertise comprises a comprehensive set of open-source and proprietary technologies that allow us to execute the most challenging and complex projects and satisfy customer requirements, expectations, and preferences.
To cut costs and ensure effective results we allocate well-balanced project teams that fit the project goals and software requirements best. Our developers, software architects, analysts, coordinators, and project managers take advantage of the Rushda Soft knowledge management system and continuous process improvements.
For more information about our skills and methodologies please revert to Rushda Soft overview and work section.
An extensive hands-on implementation experience allows us to transition to extract only the most efficient practices from all the used methodologies taking into account only real needs in the efficient, transparent, and predictable process. We provide mature and quality project management, focusing on the vital elements: